Craftmen workshops




Last edited: 23.05.2017

Ingrīda Žagata Ceramics Workshop ''Cepļi''

Address:
Skultes pag.
GPS:
lon:57.399764; lat:24.433343
Phone:
+371 29234867
Web:
www.cepli.lv; E-mail: cepli@tvnet.lv
Charges:
1,00 EUR pupils, pensioners
2,00 EUR grown-ups

The workshop of a traditional pottery master. If you would like to participate in an educational demonstration, apply for a visit to the workshop. During the visit, you will have the opportunity to become a pottery master yourself.




Last edited: 23.05.2017

ZUGU happiness and success miraculous ceramics

At Vidzeme potter's A. Preiss' workshop "Zelmeņi" in Skulte parish, you have the opportunity to see the creation of pottery, to view the exhibition and to purchase the pottery and enjoy the fireplace and open fire brick-kiln in nice weather. picnick area




Last edited: 30.05.2017

Blacksmith workshop and blacksmith Affairs Museum

Latvian Crafts camera forgemaster, Country creation master. After customer wishes - for pubs, bath houses, salons, farms produces: fireplace tools, shutters, outdoor lamps, garden chariots.




Last edited: 23.05.2017

Stump drums from farm "Dzirnupes"

Address:
Viļķenes pag., Dzirnupes
GPS:
lon:57.613942; lat:24.678934
Phone:
+371 26408465
Web:
dzirnupes@gmail.com
Charges:
Overnight barn: € 35/2 pers. (d / n)
Extra bed for children up to 12 years old: 10 EUR / pers. (d / n)
Bath night stays (up to 4 pers.): 20 EUR

Sauna evening (up to 4 pers.): 40 EUR
Sauna evening - every next person: 8 EUR

Opportunity to take part in country homestead chores, to learn the gathering process of herbal teas, to enjoy a real country sauna and view ancient household tools. The forge house is scheduled to be opened at the beginning of the season.
Limbažu tūrisma informācijas centrs
Limbaži, Torņa iela 3 | Tālr.: +371 64070608 | Mob.: +371 28359057 | e-pasts: tic@limbazi.lv | skype: visitlimbazi
Search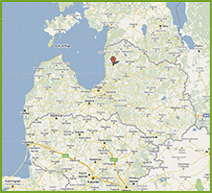 | | | | | | | |
| --- | --- | --- | --- | --- | --- | --- |
| Mo | Tu | We | Th | Fr | Sa | Su |
| | | | | 1 | 2 | 3 |
| 4 | 5 | 6 | 7 | 8 | 9 | 10 |
| 11 | 12 | 13 | 14 | 15 | 16 | 17 |
| 18 | 19 | 20 | 21 | 22 | 23 | 24 |
| 25 | 26 | 27 | 28 | 29 | 30 | |