Castles and manors



Last edited: 14.12.2011

Igate Castle

Igate Castle is one of the most romantic castles in Vidzeme. A Neo-Renaissance style manor house was constructed near Igate mansion around 1880. While enjoying a meal, you have the opportunity to look out the window and watch water mills that still grind groats. lodgings, café, rooms for seminars (capacity 80), rooms for festivities (capacity 150), TV, steam bath, pool, fishing




Last edited: 15.01.2016

Bīriņi castle

The dwelling house of the manor house owners, constructed in 1860. The building is surrounded by a romantic and beautiful setting, formed by a facilitated park, lakes and manor house buildings. A hotel and a restaurant are located in the castle. The spacious halls of the castle are suitable for wedding celebrations, parties and seminars. A tavern is located in the water mill. lodgings, restaurant, rooms for seminars (capacity 150), rooms for festivities (capacity 200), internet access, TV, steam bath, pool, swimming, boats (2), fishing, bicycles (3), horseback riding, ride in horse driven sledge, nature trail, tour guide services




Last edited: 26.09.2013

Skulte manor

Skulte manor was founded in 1st half of the 16th century. From 17.th century 80ties Skulte became the property of Šulceni family. After the Great Northern war a luxurious castle with gate and towers was built, a wide park was made and stone farm houses were built.




Last edited: 21.08.2013

Vidriži manor castle

| | |
| --- | --- |
| Address: | Vidrižu pag., Vidriži |
| GPS: | lon: 57° 20´ 43.345; lat:24° 39´ 40.503 |

In the 19th century Vidriži manor belonged to baron fon Budbergs family (in many geneartions it was connected with the Russian czar court). The castle of baron Budbergs was built in 1870. and the baron lived there during summers.
Limbažu tūrisma informācijas centrs
Limbaži, Torņa iela 3 | Tālr.: +371 64070608 | Mob.: +371 28359057 | e-pasts: tic@limbazi.lv | skype: visitlimbazi
Search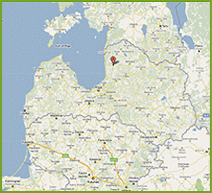 | | | | | | | |
| --- | --- | --- | --- | --- | --- | --- |
| Mo | Tu | We | Th | Fr | Sa | Su |
| | | | | | | 1 |
| 2 | 3 | 4 | 5 | 6 | 7 | 8 |
| 9 | 10 | 11 | 12 | 13 | 14 | 15 |
| 16 | 17 | 18 | 19 | 20 | 21 | 22 |
| 23 | 24 | 25 | 26 | 27 | 28 | 29 |
| 30 | 31 | | | | | |